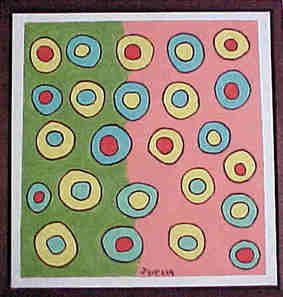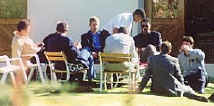 Policy makers at The Mont Fleur Energy White Paper Colloquium - 1997.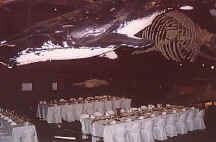 Energy & Development Studies Dinner at The Whale Well, South African Museum - 2000.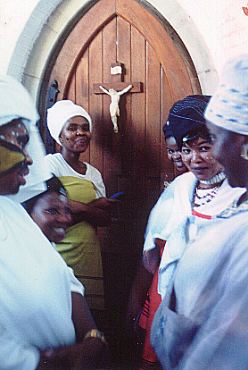 The Qavane Choral Society backstage at the Bishop's Brookside Chapel - 2000.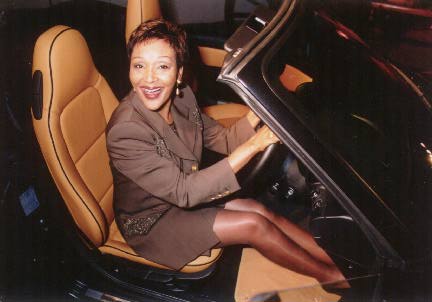 Felicia Mubuso-Suttle test driving the BMW Z3 - 1999.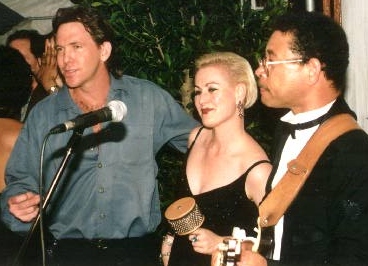 Julie Crown performing with English Cricketer at The British High Commissioner's New Year's eve party -1996.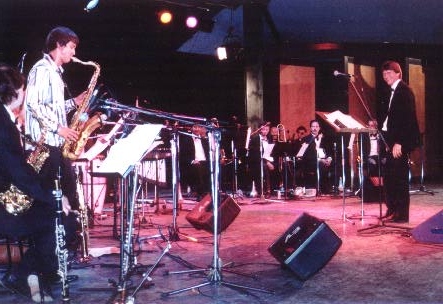 The Cape Jazz Orchestra with Dave O'Higgens, Spier - 1997.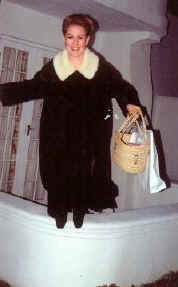 Julie Crown making a daring entrance at The Marine Hotel, Hermanus - 1994.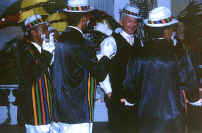 The Cape Coons at a private birthday celebration - 2000.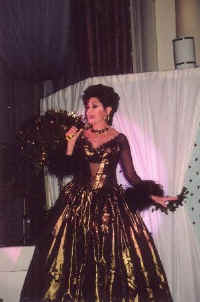 Aviva Pelham at The Coronation Management Company Roadshow - 1998.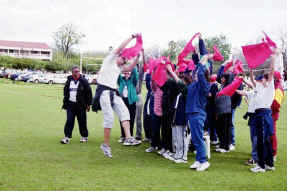 Julie Crown & Communications Manager, B.A.T. Sport's Day - 2000
"The Economics of Tobacco Control" - International Conference hosted by UCT & The Medical Research Council - 1998.

Academic: Julie Crown Productions provides comprehensive conference and or workshop co-ordination for academic institutions working alongside existing support staff. Should it be necessary we will provide an entire conference management team. Each project is approached with sensitivity to the organisation's ethos while taking into account the specific aims of each individual project. Click for reference.

The 10 year anniversary of The Energy & Development Research Centre at UCT - 1999.

Launch of the BMW Z3, Groot Constantia - 1999.

Launch of BMW 3 series - Beezy Bailey Sculpture Garden - 1998.

Corporate: We have become expert co-ordinators of corporate events, working locally, nationally and internationally. Our clients range from companies within the financial services industry, motor industry, tourism, mining sector, building industry, medical technology and pharmaceutical companies. These events range from product launches to large corporate sport's days (e.g. B.A.T. Sport's Day for 500 people).

We are often called upon by Johannesburg head offices to conduct a venue search, to provide advice on local social and cultural events, as well as to recommend restaurants and to co-ordinate tailor-made tours. Known specifically for our formidable social network in Cape Town, we are requested at times to compile guest lists for certain high profile events. We design the event itself, from the invitation to decor, seating plan, styling of the venue, menu planning and wine selection. In addition we are able to supply leading edge entertainment to suit the occasion. We will source unusual corporate gifts where required and provide VIP speakers to address specific audiences.

We manage all correspondence relating to the event, from the invitations, the RSVP's to the thank you letters. Click for reference.

Kate Gottgens in her wedding dress.

Private: Julie Crown Productions provide music for weddings and parties of any descriptions, at times co-ordinating the entire event from advice on venues to caterers, flower arrangers, invitations and decor. We are available to handle invitation design and distribution as well as RSVP's. We will recommend, e.g.: a Minister of the cloth or Rabbi to the couple should they require this sort of information, advise on dress designers and give input on the aspects of the wedding ceremony and celebration thereafter.

We are highly creative and at the same time, professional in our approach.

The Heshoo Beshoo Marimba Band - 2000.

Tourism: We design special African theme parties for visiting groups of tourists. These groups could be inbound tour groups or incentive tour groups of different nationalities. Great care is given to the requirements and sensitivities of each particular audience and in-depth research is undertaken in order to satisfy the group's needs to the fullest possible extent/.

British Cricketer's at the New Year's Eve celebrations- 1996.

Cheryl, Riette & Julie Crown at The Kamatoka Montebello Shop Launch - 2000

Minister Alec Erwin receiving a gift from The !Xu & Khwe CPA at the Kamatoka Montebello Shop Launch - 2000

The Qavane Choral Society - 2000.

Unusual poster design for Cape Town Jazz Orchestra designed by graphic art students at the Cape Technikon - 1997.

Mrs. Evita Bezuidenhout - Guest Speaker at the launch of the West Coast Fossil Park - 1998.

British High Commission New Year's Party - 1996

Diplomatic: We work with various different embassies and diplomatic organisations. We have been helping the British High Commission with their entertainment requirements for the past six years. Click for reference.

Development Work: We are often in the position where a client does not have sufficient funding to carry out his or her objectives. With a fair amount of success we have been able to to raise the necessary finances to make these projects possible.

We occasionally assist with charity events but more typically with development projects (e.g. the launch of The Kamatoka Montebello Shop and their rural art development project) and are always willing to support a worthwhile cause. Julie Crown Productions assists both classical and jazz music students where possible in their career development.

Other events: Julie Crown Productions will consider managing almost any project and is always ready for a challenge, no matter how last minute the planning, or how impossible the logistics.

We will assist with press releases and advise on media strategy. We are able to offer a comprehensive media service from press-pack to handling of interviews and press conferences.

We offer a highly creative graphic design service from posters, programmes, menus, unusual seating plan representations, name badges and conference brochures.

We will create space on our website for a particular event or conference that is in progress.

Julie Crown Productions offers many subsidiary services which link into the event management process and are always willing to source whatever we do not offer.

For further details click here to download our Event Profile[ $last_modified = filemtime("eventprof.doc"); print("Last Modified "); print(date("M d, Y h:ia", $last_modified)); ?>].

Barnard Jacobs Mellet Family Day - 2000.

Pink Team at B.A.T. Sport's Day - 2000

B.A.T. Sport's Day - 2000

'Opinion leaders within each company or organisation are consulted and every effort is made to meet the specific needs of a given audience or group'

The Marquee, B.A.T. Sport's Day - 2000